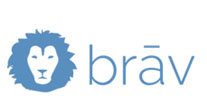 Case Study: Brav.org
www.brav.org Background: Brav.org is a non-profit organization dedicated to preventing and ending bullying. They are also a resource for those who want to educate themselves on the many forms of bullying and harassment as well as how to stop it and ways to empower those who have to deal with it.
The Challenge: This client had a valuable message and passion but as a non-profit organization, they didn't have any money for marketing so we took this job on pro bono so we could help build something we believe in to help them reach their audience and help the many people and children effected by bullying.
Goals:
Develop and grow strong online presence
Create brand awareness
Define, find and engage target audience
Get a grant to fund marketing on Google AdWords paid search
Increase online traffic to website by 75%
Create a long-term solution for sustainable growth
Market YouTube videos to target audience
Approach:
Develop a strategic search engine marketing plan with actionable roadmap
Strong market research and an overhaul of existing paid search strategies
Thorough A/B split testing of ad text, landing pages and checkout process (funnel testing)
Create channels for YouTube videos and marketing
Remove and block negative keywords and irrelevant search queries to save budget that can otherwise be spent on productive keywords
What We Achieved:
3,500% increase in traffic
an increase in the Google Grant monthly spend
#1 Google Positioning for all target keywords
Our approach to help Brav.org with their marketing campaign on AdWords was a huge success by bringing them more traffic and spreading their message to help children and people, combat bullying. We are proud to say that, with our help, thousands of people have found the help they need, the strength they were looking for, to help them in their time of need. The message has grown and with that, Google Grants has expanded the allowance of money they give Brav.org monthly, which in turn, helps everyone. We are honored to be part of this project and thankful that we were selected to help!
"Very impressive skillset and dedication to knowing everything about our products and our visitors. They launched us into top placements on Google and Bing and the success we have seen from that has been a game changer for us." – Remi, CEO