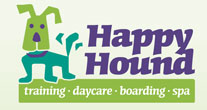 Case Study: Happy Hound
Background: Happy Hound is a dog daycare and boarding facility whose mission is to ensure the happiness, comfort and health of each and every client – both dog and human.  She set up multiple locations throughout the San Francisco Bay area but needed help getting the word out about her services and locations.
The Challenge: The client had a new business and multiple locations but needed to get off the ground ASAP in order to survive.
Goals:
Get their new business off the ground
Create brand awareness
Establish and grow their customer base
Define, find and engage a local audience
Approach:
Develop a strategic search engine marketing plan with actionable roadmap
Strong market research and an overhaul of existing paid search strategies
Targeted ads to show within a specific geographic radius
Used phone numbers and coupons to track client sources
Moved most of their advertising budget online
What We Achieved:
They are now at maximum capacity at both business locations
They have consistent leads with an average of 40+ new clients per month
They have a solid customer base and cater to a loyal group of local clients
With these great results they plan to expand geographically
Relativity PPC's search engine marketing campaign was a huge success for Happy Hound. We were able to shine a light on their new business and help it get off the ground quickly and efficiently. Now they have steady and consistent clients and a strong revenue stream that allows them to think about expanding.
"On average, we get 40 new clients a month through our PPC campaign, along with almost as many applicants we can't accept right away. Overall, AdWords generates 90 percent of our business." – Suzanne Golter, founder, Happy Hound