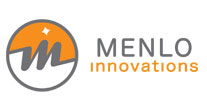 Case Study: Menlo Innovations
Background: Menlo Innovations is an innovative software development company that was great with developing useful tools and IT solutions but didn't know how to market their services. They wanted to highlight their IT skills and high-tech anthropology approach to software design and development while explaining their business to potential customers.
The Challenge: While their services were innovative and helpful, they had trouble targeting the correct audience or figuring out the best approach to marketing their company nationally.
Goals:
Get the business up and running
Create brand awareness and recognition
Define, find and engage target audience
Grow customer base
Hone marketing messages
Measure the return on their advertising investment
Approach:
Develop a strategic search engine marketing plan with actionable roadmap
Testing of different features and ad formats to best match their goals and target audience
Measured impact of campaigns and improved where needed
Thorough A/B split testing of ad text, landing pages and checkout process (funnel testing)
What We Achieved:
Achieved a strong ROI – 22 times return on investment (a $45k investment in AdWords delivered more than $1M in revenue)
Acquired new customers across the country and internationally
With our help, Menlo Innovations was able to achieve a strong return on their advertising investment in PPC with Google Adwords. By tracking traffic and measuring results we were able to steadily improve the campaign performance as the company and customer base grew exponentially.
"With help from Relativity PPC, we now have a constant source of new traffic and customers, and we don't have to rely on clever slogans." – Rich Sheridan, CEO and co-founder, Menlo Innovations