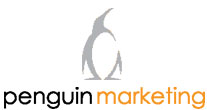 Case Study: Penguin Marketing
Background: Penguin Marketing was launched to address the public records needs of people living in North America. They provide essential data and records for people and businesses throughout the United States. These services help companies protect themselves through identification methods and background checks; help consumers validate businesses and acquaintances; and help people protect themselves and their families with services ranging from vehicle history reports, property records and background checks to birth and death records.
The Challenge: The client had a great service but needed to reach the correct demographic in order to produce sales. The demand was there because many government agencies do not have readily available reports and the reports that are available, do not provide the in-depth detail provided by Penguin Marketing and their websites.
Goals:
Develop and grow strong online presence
Create brand awareness
Define, find and engage target audience
Increase online sales by 25%
Lower CPA while boosting ROI through redesigned paid search campaigns
Create a long-term solution for sustainable growth
Approach:
Develop a strategic search engine marketing plan with actionable roadmap
Strong market research and an overhaul of existing paid search strategies
Thorough A/B split testing of ad text, landing pages and checkout process (funnel testing)
Remove and block negative keywords and irrelevant search queries to save budget that can otherwise be spent on productive keywords
What We Achieved:
352% increase in clicks
1,000% increase in ROI – while spend increased by only 42%
#1 Google Positioning for all target keywords
VehicleHistory.com had an increase of over 188,500 organic visitors over 6 months, up from 4,500.

Relativity's search engine marketing campaign was a huge success for Penguin Marketing's websites. They achieved and maintained a staggering ROI with only a slight increase in spend. Due to the success and consistent ad placement, they became the big brand leaders for all relevant keywords in their industry.
"Relativity has more experience and knowledge in the Internet Marketing space than most people or agencies I have worked with… and I have worked with many. They gave us a strategy and changed the entire direction of our company. We pivoted into something new based off their advice and the change has been incredible!" – Jesse W., Owner