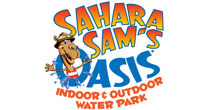 Case Study: Sahara Sam's Oasis Indoor & Outdoor Water Park
www.saharasams.com
Background: Sahara Sam's Oasis is an indoor and outdoor water park in West Berlin, NJ that is open year-round. They cater to children as well as teens and even adults with services for each age group. While they are a desirable place to relax and have fun, even during the winter time, they did not have the recognition locally that they needed.
The Challenge: Sahara Sam's needed to reach several different demographics around the West Berlin, NJ and Philadelphia, PA area but did not know how to as well as how to increase sales of tickets through their website.
Goals:
Develop and grow strong online presence
Create brand awareness
Define, find and engage target audience based on location and age group
Increase traffic to park
Increase sales of tickets on website
Create a long-term solution for sustainable growth
Approach:
Develop a strategic search engine marketing plan with actionable roadmap
Strong market research and an overhaul of existing paid search strategies
Thorough A/B split testing of ad text, landing pages and checkout process (funnel testing)
Created coupon codes and promos to attract users to online ticket sales
What We Achieved:
553% Increase in traffic to website
731% Increase in ticket sales on website
An average of 60 more customers to the water park each month and growing
#1 Google Positioning for all target keywords in their target market and area
Our approach helped Sahara Sam's Oasis break out of their traditional methods and allowed them to grow quickly with a knowledge of how to drive more ticket sales which resulted in a sustainable customer base with a growing local reputation. With the benefit of the influx of sales and traffic to the park they were able to expand the size of the water park as well as establish another location nearby to help cover even more of their market.